As we get closer to our final event, our Fall Rail Days, 5 members spent Saturday moving some of our un-restored maintenance equipment and cleaning the shop. 4 pieces were moved, including our 2 ex-TH&B motorcars, into our other building, and are tucked away, stored with 4 of our 5 ex-CN Fairmont A4d gangcars.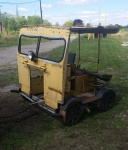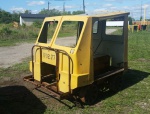 The cars were purchased in a group a few years ago by one of our members. There were parts and motors included, but the cars are not currently in the plans for restoration at this time. One car originally had the Fairmont 2 cylinder opposed piston engine. Sadly, that was no longer with the car.
After moving the cars, other equipment in the shop was repositioned and cleaned for display.? The floors needed sweeping, and the equipment will be cleaned off during the week.
Landscaping is a never ending job at the Museum, and with the big tractor down, everything is being done with the weedeater, push mower and riding mower.? The site is looking fairly decent, but we're glad the season is winding down.? Milton and Clayton from Attar Metals came over on Friday and moved some old pvc pipes that have been sitting between the old roundhouse and turntable. This will allow us to cut more of the grass down and improve the look of the site. Some work will be done with the foundation of the old roundhouse in the off season, mostly just clearing some of the dirt, brush and grass so we can better interpret the history of the site.